EURAXESS is the key to Europe for researchers worldwide. Now the EURAXESS family is growing with the branch of Repuplic of Korea. Search for opportunities right NOW.
17 July 2018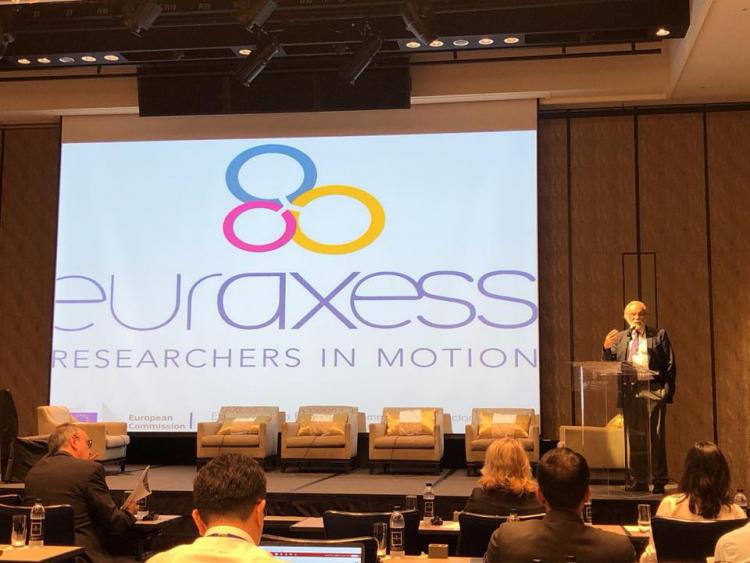 On 13 July 2019 EURAXESS South Korea was officially launched by Ambassador of the European Union to the Republic of Korea Dr. Michael Reiterer in Seoul. The EURAXESS initiative supports mobility and career development of researchers from all over the world with the main emphasis of providing information on the European research institutions, European funding opportunities and job vacancies. EURAXESS is coordinated by the European Commission, the Directorate General for Research and Innovation.
More than 150 participants discussed topics related to mobility of researchers, international cooperation and joint EU-Korea projects. The event was desgined around panel discussions and 2 parallel workshops where researchers had to opportunity to get insights on how to submit proposals under the prestigious European funding schemes for individual researchers from the Marie Curie Sklodovska Actions and the European Research Council.
The Ambassador officially opened the South Korean Chapter, in his speech he highlighted the importance of collaboration between Korea and Europe in scientific fields. In a festive ceremony we launched the innitiative. Ms Fabienne Gautier from the European Commission underlined the outstanding opportunitities provided by the European Horizon 2020 funding programm for research and innovation, which is the largest in the world. She underlinded the European Welcoming culture and openness to the world.
Dr Matthieu Py and Dr Tomasz Wierzbowski are as from now on the EURAXESS representatives for South Korea working with and for the research community. Contact details can be found on the EURAXESS portal: http://euraxess.ec.europa.eu