From time to time we ask our members and volunteers to tell about their Hungarian study and everyday experiences and why it is important for them to be an Alumni Hungary member.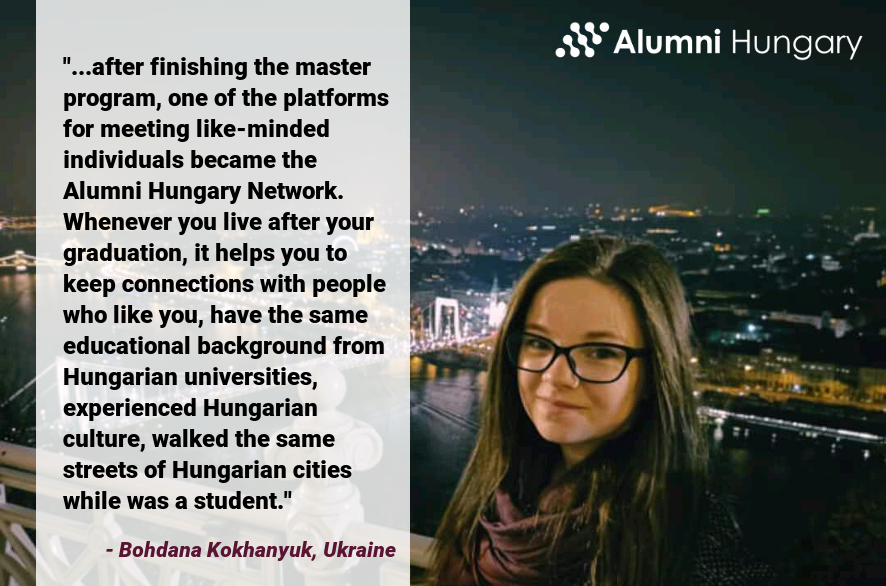 "Without doubts, I can say that choosing a Hungarian university for completing my master degree was a crucial decision of my life. This first of all applies to my educational path, since my alma mater, University of Pécs, gave me a possibility to learn from the best professionals of my field, who are ready to help students in developing necessary skills and prepare themselves for a future career. Another great discovery for me was that living side by side with students from all over the world, you realize how special is each culture, how diverse and unique are the people, and how great things you can do cooperating with others. In my case, even after finishing the master program, one of the platforms for meeting like-minded individuals became the Alumni Hungary Network. Whenever you live after your graduation, it helps you to keep connections with people who like you, have the same educational background from Hungarian universities, experienced Hungarian culture, walked the same streets of Hungarian cities while was a student. A special experience for me was the International Alumni Workshop, organized by Tempus Public Foundation in October. It was very motivating to get to know the stories of successful former students of Hungarian universities from the whole world and all generations. Being a part of the Alumni Hungary Network, you can also be an ambassador in your country, representing study possibilities in Hungary and sharing your memories of this wonderful place and its people. In my opinion, this is definitely an opportunity that each active international graduate should try."
Dana Kokhanyuk
Ukraine
Medical Biotechnology, MSc
University of Pécs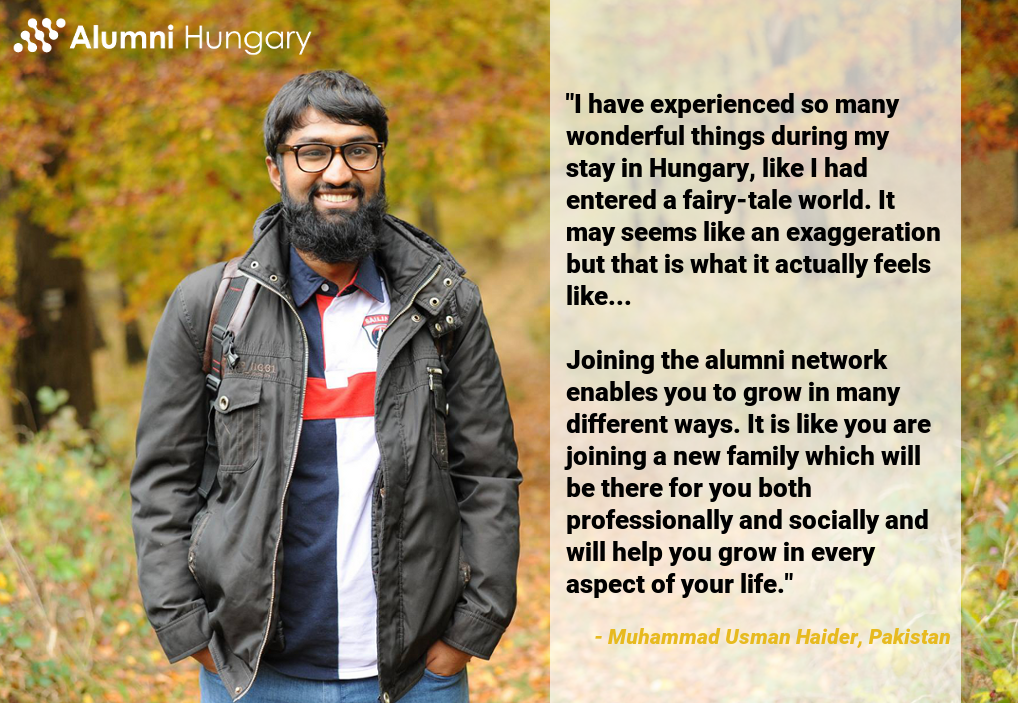 "Coming to Hungary and studying in Budapest was a shocking experience. Before coming here I only knew how good of a university BME is and had very little knowledge about Budapest and Hungary as a whole. I was not expecting much aside from the academics but I was so wrong. I have experienced so many wonderful things during my stay in Hungary, like I had entered a fairy-tale world. It may seems like an exaggeration but that is what it actually feels like when you are spending your time in a city as beautiful as Budapest. I fell in love with this city at first sight and will do so forever.
Joining the alumni network enables you to grow in many different ways. From amazing networking opportunities to access to countless career building tools; the possibilities are endless. And it is not just about the professional benefits you get from being a part of this network. It is like you are joining a new family which will be there for you both professionally and socially and will help you grow in every aspect of your life."
Muhammad Usman Haider
Pakistan
Budapest University of Technology and Economics
Transportation Engineering, MSc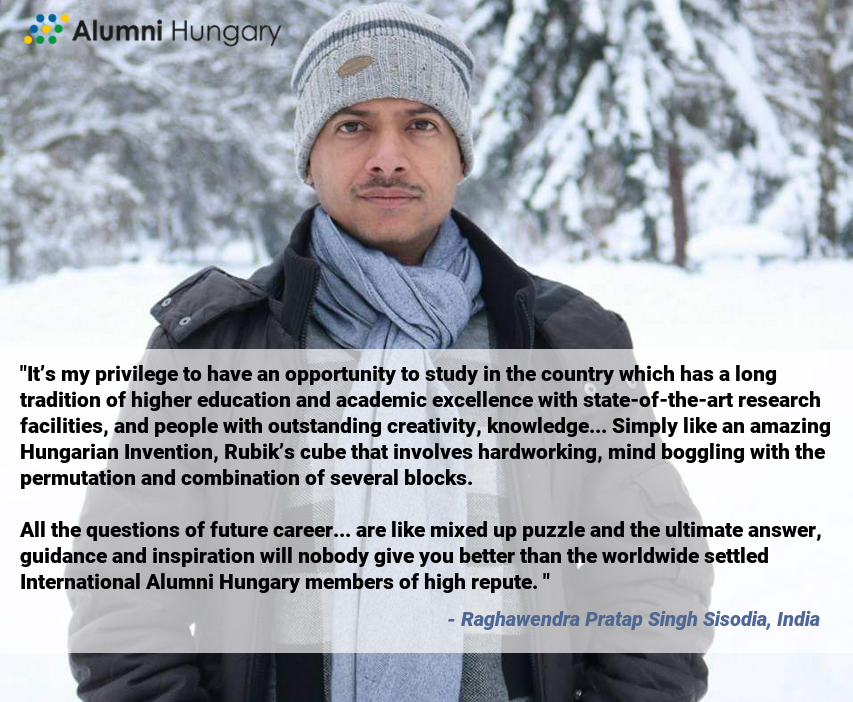 "It's my privilege to have an opportunity to study in the country which has a long tradition of higher education and academic excellence with state-of-the-art research facilities, and people with outstanding creativity, knowledge, focussed on delivering the best on their part for the human mankind, country and the world.  
That reflected clearly with the recipient of Nobel prizes, so far it is 13 in different fields out of these three in medicines, ranks in top 15 recipient countries. This gave me the great opportunity, to get to know fellow International students from all over the world, exchange ideas, to develop my knowledge and skills around a new or familiar course. It really helps me to learn a lot about a country's culture, everyday lifestyle, and values. I feel an extremely honoured to pursue my higher education at the University of Miskolc, world class education system, cutting edge research and innovation, attend lectures taught by the highly experienced professors of high-level research findings in Mechanical Engineering fields. It gives me real satisfaction, realization of ideas, true feeling of research and innovation and inspiration to realize my dreams in developing innovative, creative society, where individuals stand the chance to become global players in their field of specialization. 
Simply like an amazing Hungarian Invention, Rubik's cube that involves hardworking, mind boggling with the permutation and combination of several blocks. Finally it gives you desired result, happiness and inner self-satisfaction similarly during the university studies. All the questions of future career like an area of interest, skills and tools, competitiveness in marketplace, job requirement, employment trends, success etc. are like mixed up puzzle and the ultimate answer, guidance and inspiration will nobody give you better than the worldwide settled International Alumni Hungary members of high repute. The network also contributes in creating and expanding worldwide community of international alumni of excellence."

Raghawendra Pratap Singh Sisodia
India
University of Miskolc, Miskolc, Hungary
Mechanical Engineering & Informatics, PhD